While construction management has become a career that's in high demand, this field can be quite complex and challenging. The same goes for entering the field in the first place, which can be daunting for any student or recent graduate. 
So let's dive a little deeper into this topic and start by looking at exactly how you can take your first step towards becoming a qualified construction manager.
What Qualifications Do You Need to Be a Construction Project Manager?
Some professionals in this role have a great deal of field experience but very little formal education; others have bachelor's or even master's degrees in construction science, business management, or architecture, yet lack much real-world experience. 
Nowadays, most companies look for candidates who possess an associate or bachelor's degree in construction or a similar major. Degree programs that can serve as a launchpad for prospective construction managers include:
Architecture

Business

Construction Management

Construction Science

Engineering
According to the Bureau of Labor Statistics (BLS), there are more than 100 institutions that offer bachelor's degrees in these areas. Your courses will cover essential skills for a project manager, typically including project controls, budget management and cost estimation, project management software, and other courses specific to design methodology. Additionally, there are over 50 two-year institutions where you can gain an associate degree in a relevant field. 
Upon graduating from your degree program, your first role will typically be as an assistant or apprentice, unless you have significant experience already, though this is unlikely as a new graduate. 
What Do Construction Managers Do?
Construction managers are responsible for managing various construction projects. This includes planning, coordinating, and supervising the delivery of new structures or services. Your responsibilities are likely to include:
Preparing cost estimates for delivering a project from start to finish

Preparing project specifications, requirements documents, and timelines

Explaining technical information to non-technical audiences

Regularly reporting to stakeholders on project progress, risks, and issues

Sourcing subcontractors to fulfill specific requirements within the project plan

Ensuring that their work complies with the law, building regulations, and safety requirements
As a manager of construction projects, you'll work with a broad variety of professionals, including architects, engineers, electricians, plumbers, carpenters, and others. What's more, you'll more than likely be the direct supervisor of these professionals as they carry out your work.
Is Construction Management a Good Career?
If you define a 'good career' as one that offers long-term job security and the potential to earn a high salary, then this is indeed a good career to choose. Construction managers are paid far above the national average salary for all other occupations combined. 
According to the Bureau of Labor Statistics (BLS), the median annual wage for construction managers in May 2019 was $95,260 annually or $45.80 per hour. The top 10% of earners were also making well in excess of $100,000 at the time this data was recorded. Job outlook and security are also strong, with the BLS predicting a 10% rise in available positions between 2018 and 2028. 
How Do I Become a Construction Manager With No Experience?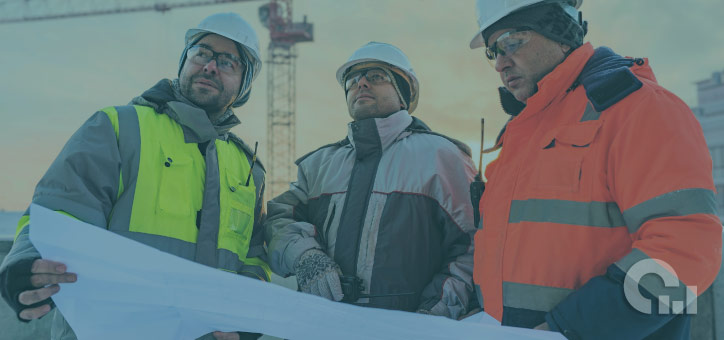 The good news is that there are many qualified and experienced project managers working in the construction industry, many of whom probably never went to college or university or perhaps hold a degree in an unrelated major. 
Within some companies, particularly newer companies that are growing rapidly, or established companies that are going through a period of significant transformation, it's not uncommon for an existing employee with strong leadership skills to be thrown into the role of a project manager. 
If you want to be proactive and increase your chances, and if you don't want to spend two to four years at university, you could instead acquire a professional project management qualification. There are many qualifications or certifications that you can take simply by paying the course fee and studying remotely. Here are some of the most popular:
'

The Certified Associate in Project Management

(CAPM) is a certification that doesn't require any project management experience to earn. Costing around $300, you'll self-study before taking a 150-question examination lasting 3 hours. 

The Project Management Professional (

PMP

) certification. Unlike the CAPM, you'll need to meet specific eligibility requirements to apply. 
Alternatively, you might opt for one of the industry's benchmark qualifications, such as Prince2, which follows the waterfall method of project management and is popular in government agencies. The Scrum Alliance also offers a number of professional qualifications that are newer concepts to the industry yet are being widely adopted.
There are also additional qualifications, offered by organizations within the construction industry, which could help you land a new role. These organizations are the 'Construction Management Association of America' (CMAA) and 'The American Institute of Constructors' (AIC). CMAA has more than 16,000 members across the private sector and government and offers professional development programs.
How Long Does it Take to Become a Construction Manager?
The time taken to secure a role as a construction manager depends on the route you take into the profession. If you enroll in an associate degree program, then your studies will typically last for two years. Bachelor's degree programs last for four years – when studied full-time – but provide easier access to some positions. 
Once you've found a position, you'll normally start as an assistant–as mentioned above–which could see you gaining experience under supervision for several months or several years. However, at this point, you may have gained sufficient experience in the role to take a professional qualification, such as the PMP.