To study psychology is to study the inner workings of the human mind. It's to ask questions and seek answers about why we do the things we do and think the things we think.  
Those who excel in this field have an insatiable curiosity and an unrelenting drive to help others. They have the desire to get under the hood and figure out what truly makes people tick. 
In addition to the intricacies of human behavior, a psychology major will be well-grounded in the humanities, as well as science and mathematics. 
This guide will cover what goes into a degree in psychology, from associate to doctorate degrees, as well as common career paths for psychology majors.
Whichever path is chosen, a degree in psychology offers a deeper, broader, and more diverse understanding of humankind.
What Is Psychology?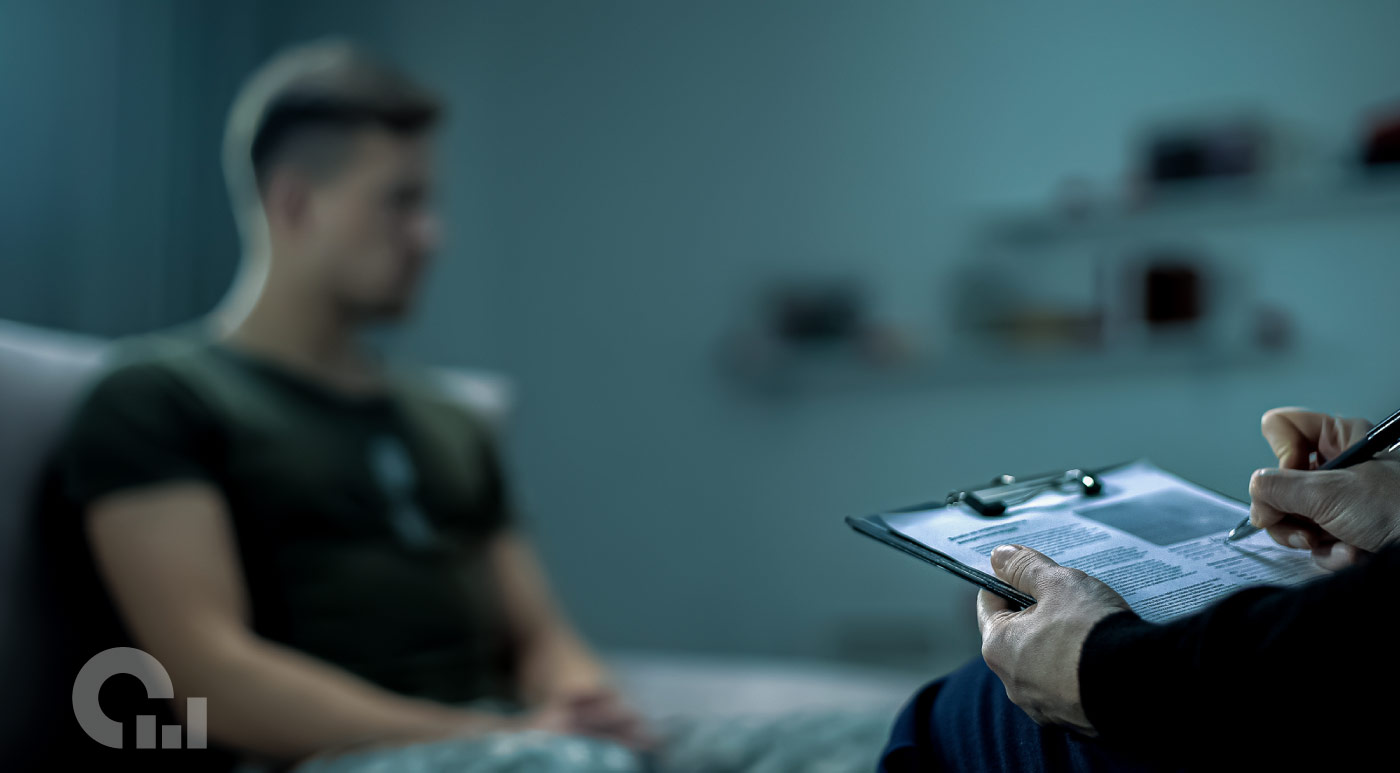 A degree in psychology opens up a variety of career paths beyond just that of a psychologist. Many psychology majors go on to become counselors or therapists, and many others find successful careers in human resources or even public relations.
Psychology majors often work in education, social services, health care, or even government. An undergraduate degree in psychology even qualifies a student to continue on to fields such as law.
That's because, in addition to valuable insight into the human mind, students of psychology study history, writing, and even statistics. A psychology student also learns how to conduct research as well as gather and interpret data; all of which are skills that are in very high demand. 
Many psychology majors also go on to complete graduate-level coursework, usually in psychology but also a broad range of related fields.
Some surprising career paths opened by a degree in psychology include human resources (as was already mentioned), real estate, arbitration and mediation, post-secondary administration, and student affairs. 
Deena A. Maerowitz, JD, MSW, Principal, a college and graduate school advisor for the The Bertram Group, LLC, majored in psychology at Mount Holyoke College. 
"I loved psychology and wanted to work on education issues as well. I am a lawyer and have my master's in social work," Maerowitz tells Online Schools Report. 
"Studying psychology helped me in my career because I was able to explore why people think the way they do and why they make decisions they make," she continues. "This put me on my path to studying social work and law."
Psychology degrees are available from a broad range of educational institutions, many online, and many quite affordable. 
A master's degree in the field can also be earned entirely online, and for those interested in what makes the criminal mind tick, forensic psychology degrees can also be earned completely online, as can degrees in the Addictions and Recovery field.
For a better picture of the career of a psychologist, consider contacting one of the many professional associations in the field of psychology, namely the American Psychological Association. 
Perhaps more than anything, a psychology major should be comfortable dealing with human emotions, and they should be sympathetic and compassionate individuals. 
Psychology majors should also understand how to communicate and work with diverse groups of individuals, as well as how to gather and analyze data. Psychology majors are driven to help, and that trait is always in demand.
Careers in Psychology
Here are five of the most common jobs for psychology majors, with educational requirements and average annual salary, according to the Bureau of Labor Statistics. In addition to these five positions, psychology majors often find work in marketing, politics, criminology, and even journalism.
| | | |
| --- | --- | --- |
| Job Title | Approx. # Years of Education | Average Annual Salary |
| Marriage and Family Therapist | 6 | $49,610 |
| Guidance Counselor | 6 | $57,040 |
| Human Resources Staff | 4 | $61,920 |
| Social Worker | 4 | $50,470 |
| Public Relations Specialist | 4 | $61,150 |
All salary data is courtesy U.S. Bureau of Labor Statistics Occupational Outlook Handbook.
Marriage and Family Therapist
Graduates in the field of psychology often go on to become therapists in a number of capacities related to mental health, including marriage and family therapy, or LMFT.  
Successful therapists have an abundance of compassion and understanding, working with individuals, couples, and even entire families on a broad range of emotional issues. 
Using a variety of skills to assist their clients, therapists draw upon cognitive behavioral therapy, which is an approach designed to help clients gain insight into negative and unproductive behaviors, thoughts, feelings, and beliefs.
They also collaborate with clients on a plan for improved mental health and emotional well-being.
Marriage and family therapists, to name just one kind of therapist, utilize a variety of strategies learned in school to encourage their clients to open up about their often difficult mental and emotional experiences. 
In addition, therapists work with clients to process their reactions to difficult life changes, like a death in the family, divorce, or an unexpected job change.
Therapists also assist in developing skills and strategies with clients to help them change their behavior and develop coping mechanisms.
They may refer clients to additional resources within the community, like inpatient treatment facilities or support groups. 
Part of a therapist's job is to complete and maintain confidential and mandated files and records, often working with insurance companies for payment. Many therapists find work in private practice, but many find work in larger clinics where a number of therapists offer their services. 
Based on data from the Bureau of Labor Statistics, the average therapist salary is $49,610, and a master's degree is required to find employment in this field. 
There are roughly 55,000 jobs in the U.S, and job growth 2018 through 2028 is estimated at 22%, much faster than average. A master's degree, as well as a residency or internship, are also required.  
States with a concentration of work in this profession include California and New Jersey. To become a specialized therapist, such as a licensed marriage and family therapist, requires certification. For more information, consult MFT-license.com. 
Guidance Counselor
Another common profession for a graduate with a degree in psychology is that of a guidance counselor, sometimes called a school or career counselor.
Working with students, guidance counselors use a variety of tools, including aptitude tests, in-person interviews, and individualized planning, to evaluate and identify areas of interest, as well as any possible issues that might have a negative impact on school performance.
Guidance counselors help students find success in school through the development of academic and social skills. They also help students explore career options. This can include job searching skills, as well as tips and pointers for networking and how to prepare for a job interview.
Counselors also work directly with students to help them understand and address classroom and social behavior issues, as well as developing strategies like organizational, time management, and study skills.
In addition to students, guidance counselors collaborate with school administrators, teachers, and parents to address a broad range of social and behavioral issues in the school environment. This can include things like substance abuse, bullying, or simply planning for college and a career after graduation.
The job requires maintaining detailed records, as well as dealing with and reporting situations of neglect or abuse, while referring students and parents to resources for support outside the school environment.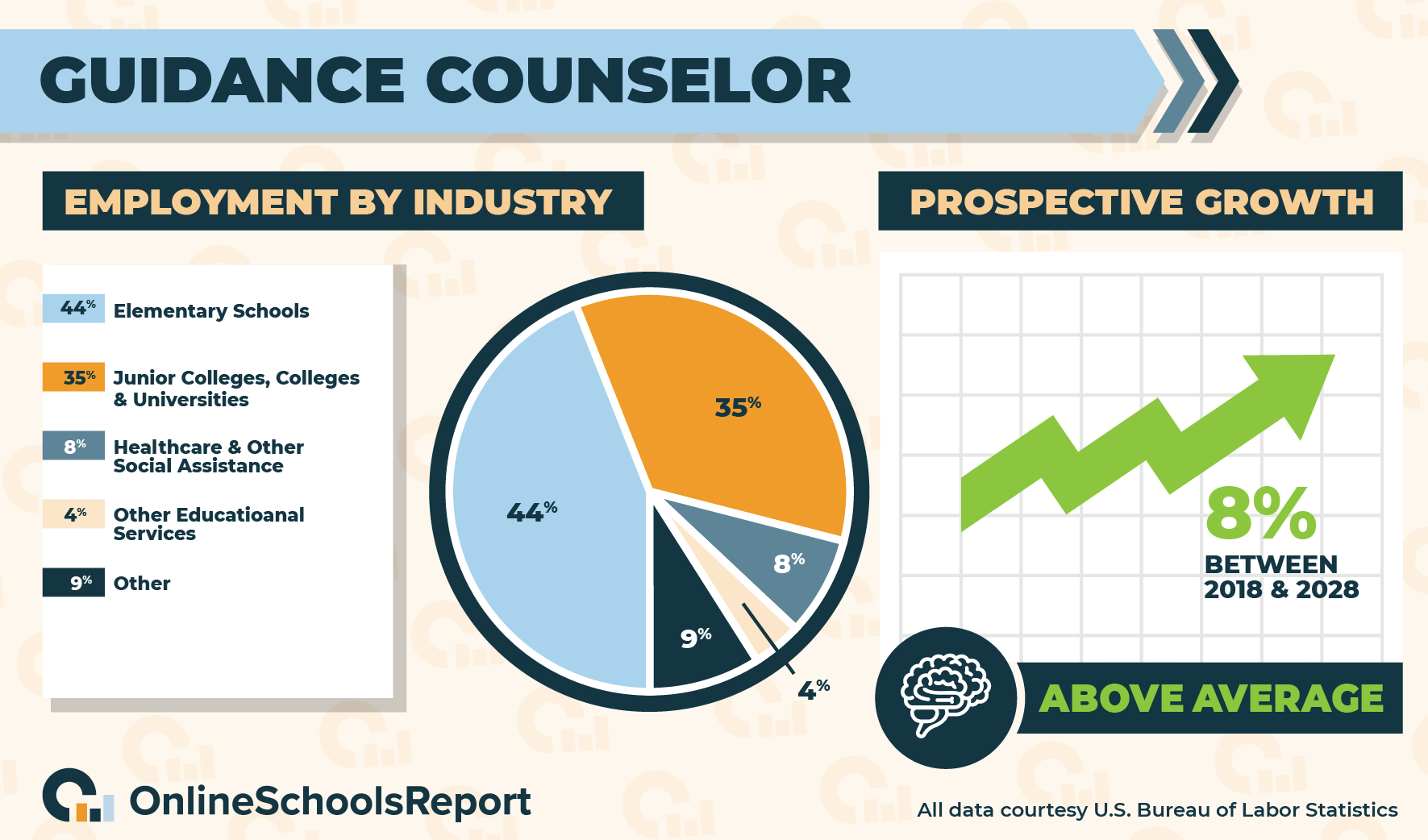 Guidance counselors find work in all levels of education, from elementary school to high school. More than anything, a guidance, school, or career counselor must have a passion for working with young people.
The average salary of a guidance counselor is $57,040, and there are about 324,500 jobs across the U.S. Job growth in the field is expected to average 8% in the timeframe spanning 2018 through 2028, according to the Bureau of Labor Statistics, which is faster than the average growth in many other fields. 
States with high concentrations of employment in this line of work include Vermont and Louisiana.
A master's degree is required to find work in this profession, and many belong to ASCA, or the American School Counselor Association.
Human Resources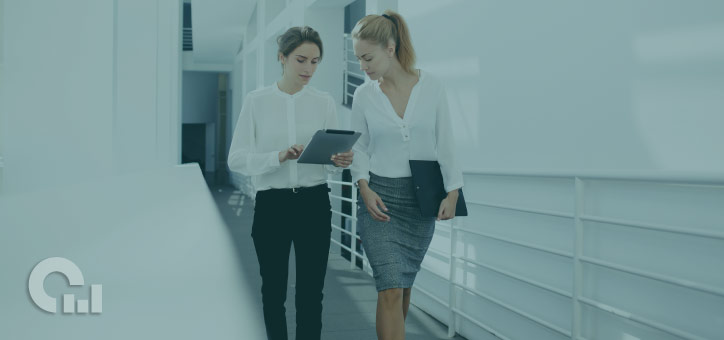 Some readers may be surprised to discover that human resources is a popular and viable career field for many psychology majors.
Successful workers in the field of human resources must enjoy working with people. A degree in psychology prepares candidates for employment in human resources by providing emphasis on analyzing data and recognizing the inner-workings of human nature in the workplace. 
Human resources staff, management, and specialists work in a broad range of businesses and organizations, and also sometimes with third-party human resources services. 
Primarily tasked with identifying specific employment needs through consultation, human resources staff are also commonly charged with interviewing applicants about their work and educational experience, as well as any relevant skills that might be applicable to the position.
Other common job duties can include clearly and effectively identifying and communicating job descriptions, benefits, conditions, and other relevant job details. 
Additional responsibilities for human resources staff can include contacting references and performing background checks, as well as contacting those who have been hired, while conducting and assisting with new employee orientation.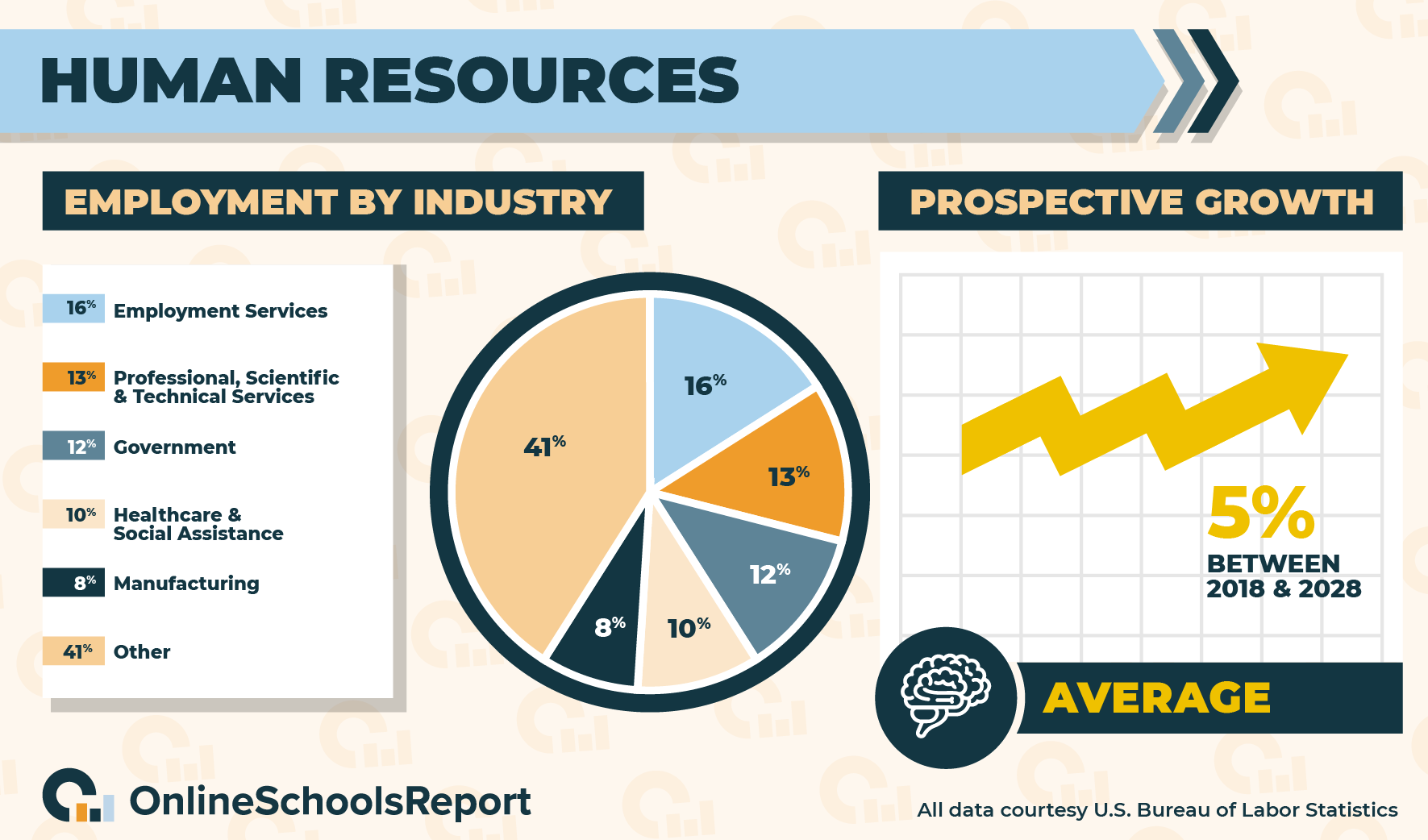 Two common job titles in the field of human resources include human resources generalists, who often handle the administration and enforcement of all human resources policies, procedures, and programs. There are also recruitment specialists, or personnel recruiters, sometimes called "head hunters." 
The average income in the human resource industry is $61,920, according to the Bureau of Labor Statistics. There are 625,700 human resources jobs in the U.S. and job opportunities are expected to grow at a rate of 5%, roughly the average growth rate in many industries in the time span ranging 2018 to 2028. 
According to the Bureau of Labor Statistics, states and districts in the U.S. with a high concentration of work in this field include the District of Columbia and Virginia. 
One of the world's largest professional associations in the human resources industry is SHRM, or the Society for Human Resource Management, which also offers certification for qualified applicants. 
Social Worker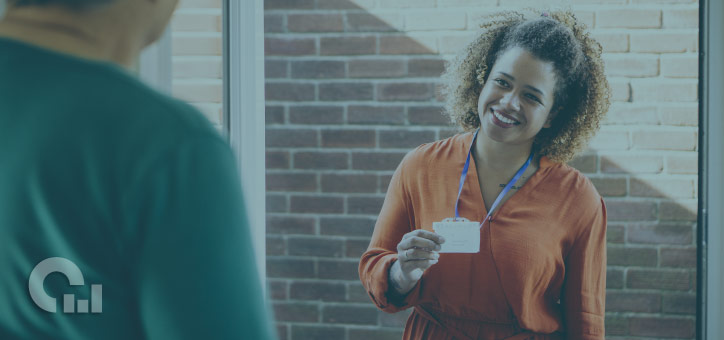 Many fields of work suitable for psychology majors require an interest in helping people, and social work is no exception.  
Those in this line of work identify communities and individuals in need of assistance. Social workers assess each situation while also pointing clients toward help in the form of community support networks. 
Social workers can also work to help clients adjust to major life changes, such as major illness, divorce, or unemployment. They research, refer, and advocate for community resources to improve a client's well being, including childcare, food stamps, healthcare, and much more.
Part of a social worker's job may also include responding to difficult and traumatic situations, including child abuse and extreme mental health emergencies. 
But social work can also be positive. For example, they also help couples navigate the process of adopting a child. 
Social work can include client follow up, maintaining and updating case files and records, developing client programs and services, and also, on occasion, providing psychotherapy services. 
Social workers also advocate and raise awareness for causes and clients at the local, state, and national level.
Bachelor's social workers, or BSW, work in what is often referred to as macro social work. They interact with specific groups, community organizations, and policymakers, developing improved programs as well as services, policies, and overall social conditions. 
There are also clinical social workers (CSW), or licensed clinical social workers (LCSW), who diagnose and treat behavioral, mental, and emotional disorders. Additionally, a master's social worker is any social worker who has yet to complete two years of supervised work. 
Other job titles in the field of social work include child and family social workers, school social workers, healthcare social workers, and mental health and substance abuse social workers. 
The median pay in this field is $50,470, according to the Bureau of Labor Statistics, with 707,400 jobs in the U.S. Job growth in the field is expected to reach 11% in the time span of 2018 through 2028, which is much faster than the national average. 
States with high levels of jobs related to social work include California and New York.
Public Relations Specialist
Another somewhat unexpected line of work for a graduate with a degree in psychology is public relations specialist, sometimes called a communication or media specialist. 
To work in public relations, one must have a keen understanding of human nature and interpersonal communication, both of which are extensively covered in psychology-related coursework. 
Common duties in the workplace for a public relations specialist include responding to media inquiries, as well as writing press releases or preparing other forms of communication for release to the media. 
They also help and advise clients with media communication, while also helping brands, corporations, and businesses maintain their image with the general public. 
Job duties can often include writing speeches for top executives. These specialists also commonly evaluate advertising and promotional programs with an eye for whether or not they are inline with an organization's public relations goals and guidelines. Public relations specialists also commonly use social media to evaluate public opinion. 
A bachelor's degree in public relations, communications, or related fields such as psychology, are often required to find work as a public relations specialist.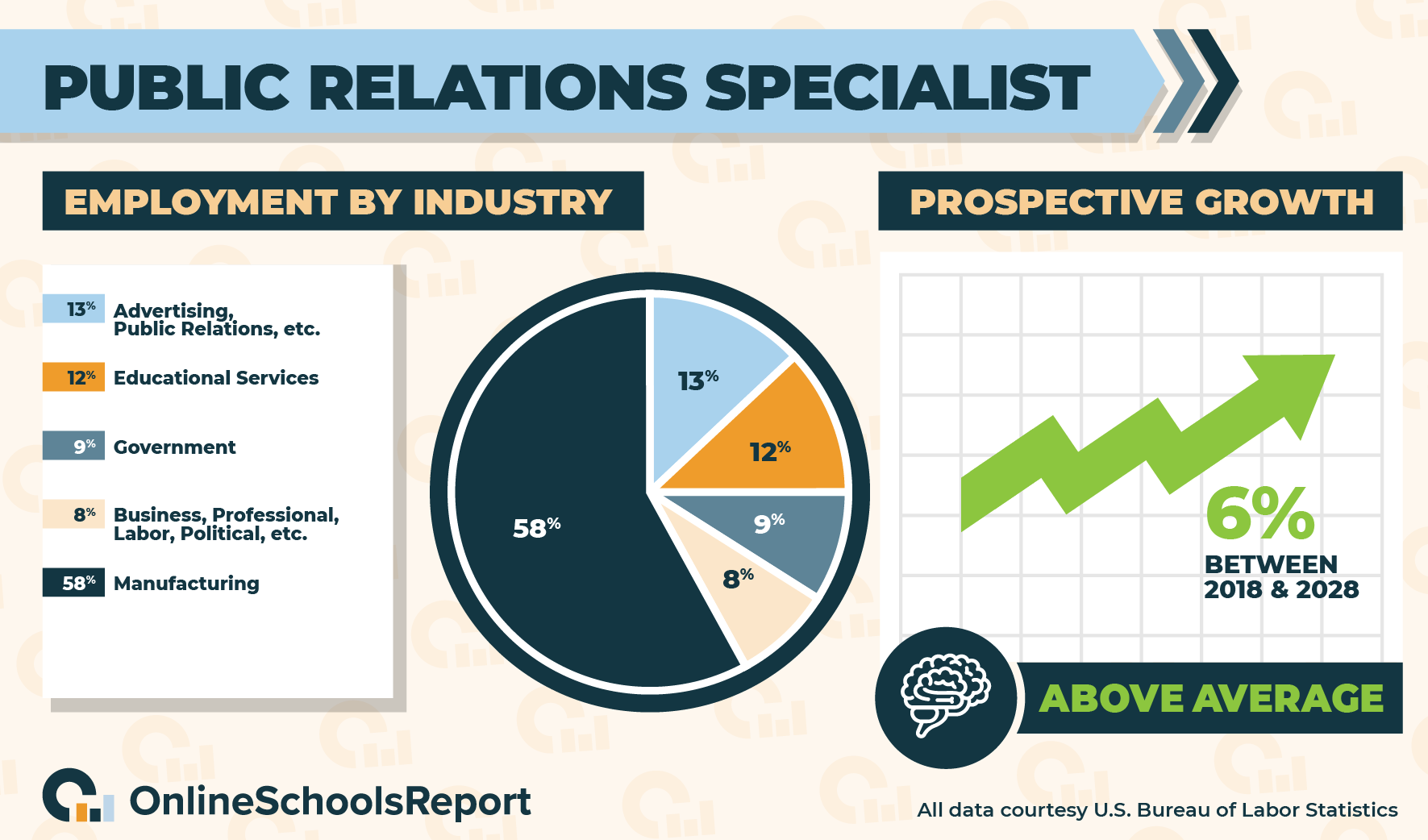 Advanced degrees are offered in public relations, both online and at in-person educational institutions, to increase the likelihood of career advancement, both within a company's public relations department, or within an independent public relations firm. 
The average salary in the field of public relations is $61,150, according to the Bureau of Labor Statistics, with 270,000 public relations specialist positions in the U.S. Job growth in this line of work is estimated at 6% spanning 2018 to 2028, in line with many other professions. 
States with high concentrations of work in this field include California and Texas. A notable professional organization in the field is the PRSA, or Public Relations Society of America.
Psychology Degrees
So, you've decided a degree in psychology is right for you. Here's a closer look at the different degrees available in psychology, including some important pointers for choosing a degree program that will suit both your educational and professional goals.
Associate Degree in Psychology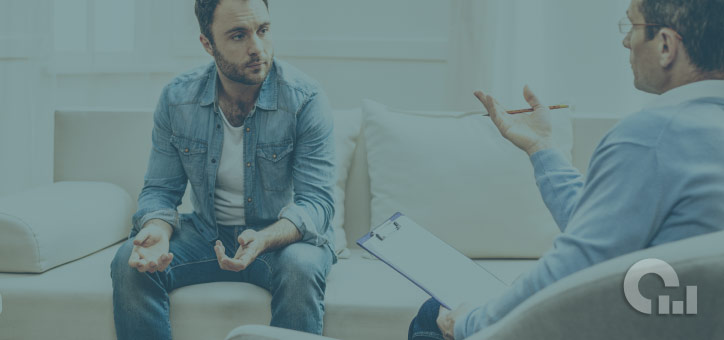 A two-year associate degree in psychology is a great starting point for students interested in completing a four-year degree program at a college or university.
Students with an associate degree in psychology will graduate with a basic understanding of intelligence and cognition, personality types and theories, psychological disorders, developmental stages, and the power of social influence.
An average of 60–65 credits is commonly required to complete an associate degree in psychology, and most students complete the degree in two years. A high school diploma or GED is required for admittance into an associate degree program in psychology.
A personal statement or letter of intent is also sometimes required, as well as possibly submitting ACT or SAT scores, though admission requirements vary between programs.
Jobs in psychology most often require a bachelor's degree, so most students pursuing an associate degree will transfer their credits to a four-year program.
An associate degree in psychology will qualify some students for work in the following positions: psychiatric technicians and aides, substance abuse and behavioral counseling, and social and human service assistants, among others. 
Associate degree programs are usually more affordable than four-year degrees, and work well for students interested in learning practical or vocational skills to enter the workforce as quickly as possible.  
Some students also advance to post-baccalaureate work in psychology or related subject matter, which further increases their chances of finding work and earning potential.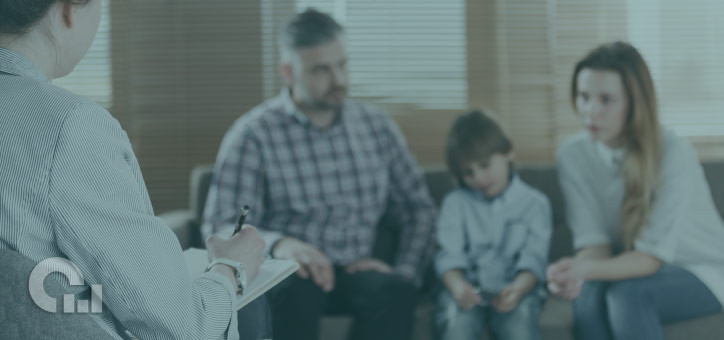 Building on coursework that begins at the associate level, a four-year bachelor's degree in psychology will further prepare a student for work in psychology and related fields. 
While advancing in coursework, students will study subject matter like general biological-based psychology, general cognitive-based psychology, and general behavior-based psychology, deepening and broadening their understanding of the subject matter. 
Although admittance standards vary, a high school diploma or GED is required for bachelor's degree programs in psychology, as well as submitting ACT or SAT scores, and letters of recommendation or personal statements of intent. 
It most often takes 120 credits to earn a bachelor's degree, and many students complete their degree in four years. Students looking to save money often study online, and take care to look for affordable options.
Some students apply for entry into a psychology program directly out of high school, while others begin their first two years of study in an associate degree program at a community or junior college, and then transfer their credits to a college or university.
While a four-year degree in psychology builds on many of the foundational principles studied in an associate program, the depth and intensity of the coursework will advance, moving from the vocational and practical emphasis of many associate degree programs to the more theoretical approach common at many colleges and universities. 
Curriculum and areas of emphasis in four-year psychology programs can include social psychology, developmental psychology, and clinical psychology, among many others. 
Many enter the workforce after their bachelor's degree, though graduate-level degrees and additional certification is often required to work in psychology-related professions.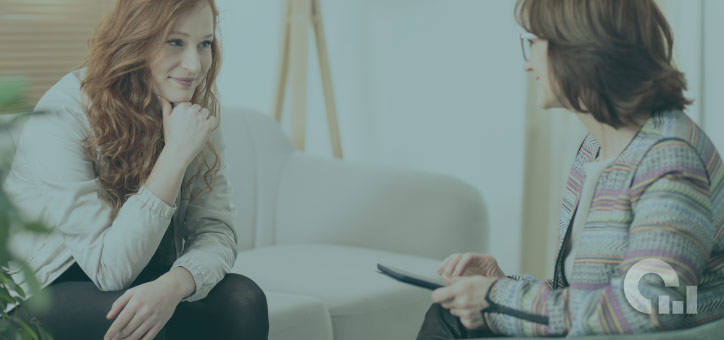 After completing undergraduate work in psychology, students can move on to graduate-level coursework. 
Earning an MA or an MS in psychology broadens employment opportunities and increases earning potential, allowing students to focus their interests in psychology from broad, theoretical topics related to the field, to specific areas of emphasis.
A bachelor's degree is required for admittance into a master's program, with a GPA of at least 3.0, though these requirements can vary from school to school. 
Students most often need to take the GRE, or Graduate Record Examination, prior to admittance, and letters of recommendation or a letter of intent may also be required.
Coursework in a master's program will further build upon the groundwork laid by an associate or bachelor's program. This can include theoretical psychology, developmental psychology, ethics and psychology, and research. 
The time it takes to complete a master's program can also vary, though two years is the average for many programs. 
In addition, many programs are designed for working professionals to be able to fit school around their job, which can lengthen the time it takes to complete the degree. Some undergraduate psychology programs fast-track students to a master's degree, helping students save time and money on their education.
Between 30–60 credits are usually required for completion, with a thesis paper required at the end of the program. 
Those with master's degrees in psychology often go on to work in roles such as drug and alcohol counseling and rehabilitation, marriage and family therapy, or some other form of counseling.
Doctorate in Psychology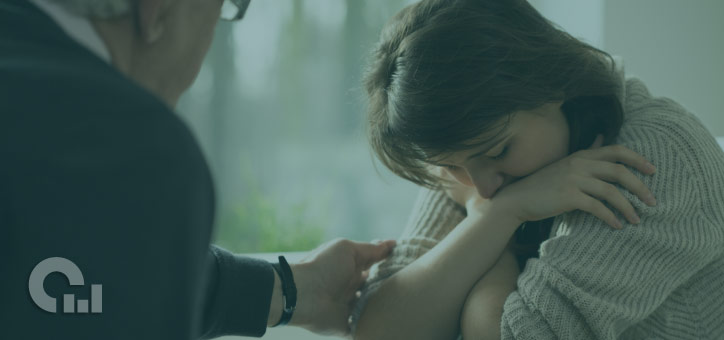 After completing a master's degree, some students then move on to a doctorate of psychology degree, or PsyD. This degree is for any student interested in working as a licensed clinical psychologist, as opposed to research or academics. 
A Ph.D. in psychology, on the other hand, prepares students to work in academics and more research-based roles. 
Common areas of emphasis in PsyD degree programs include counseling psychology, child psychology, school psychology, or health psychology. A PsyD also prepares graduates to earn their licensed clinical psychologist certification to work in private practice.
Coursework in doctorate programs focuses heavily on the theoretical aspects of topics like clinical counseling and school psychology, as well as cognitive behavior and psychodynamics. Graduates will also be able to assess, diagnose, and treat mental illnesses in the general population.
Completion of an undergraduate degree is required for admittance to a doctorate degree program in psychology, though some require a master's degree. 
Although application requirements vary from program to program, a 3.0 GPA is most often required for admittance to a doctorate program in psychology, as well as completion of both the general GRE and the GRE psychology subject test. 
Transcripts, letters of recommendation, and statements of personal intent may also be needed, as well as a strong background in research and demonstrated commitment to the subject matter.