For decades, college students have watched the cost of college climb higher and higher, and undergraduates and graduates alike want to know exactly what causes higher education costs to be so high.
The truth is, many factors have played a role in the skyrocketing costs — including rising demand, increased administrative costs, lowered public funding and heightened student amenities packages. 
Read on to find out more about why college is so expensive, how to make college more affordable and the factors that make online college cheaper than traditional college options. 
When Did College Become Expensive?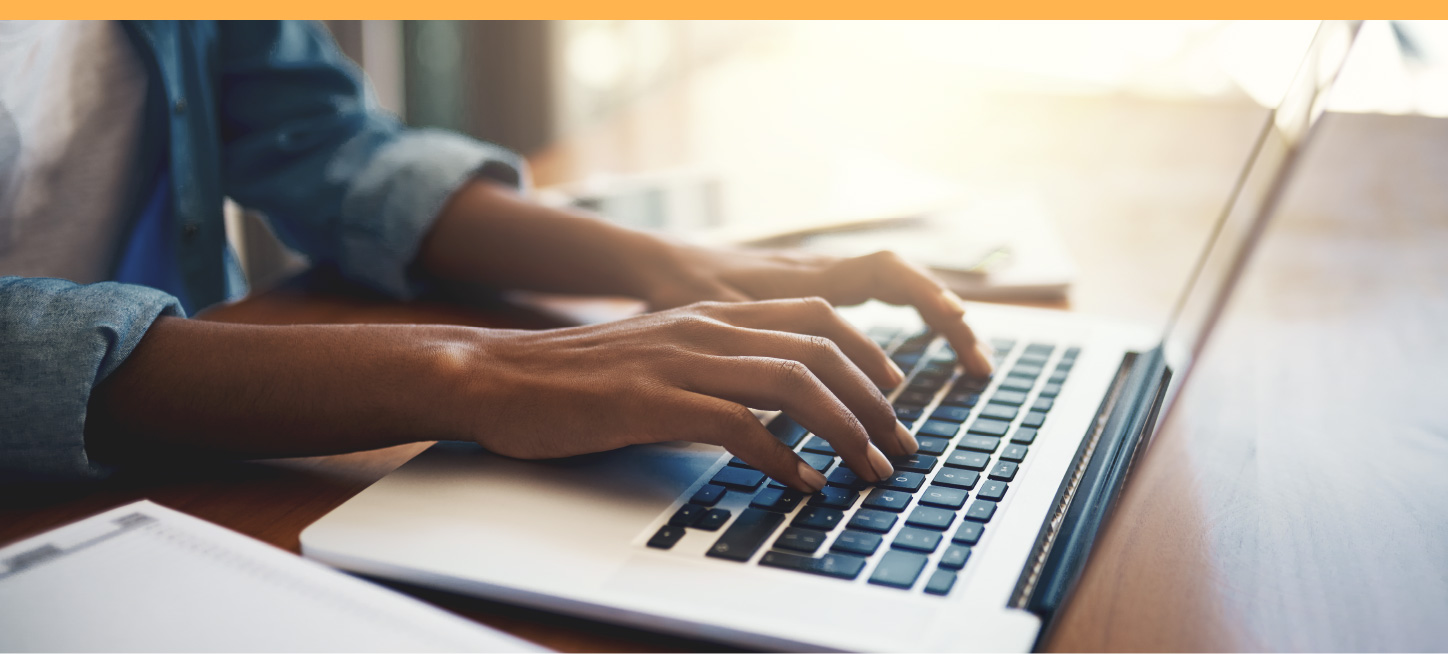 The cost of college has been climbing steadily since the 1980s, and college is currently more expensive than it's ever been. In the 1985–1986 school year, the average cost in today's dollars for one year of schooling (tuition, fees, room and board) at a four-year college was around $12,000, according to the Department of Education's National Center for Education Statistics. By the time that the 2017-2018 school year rolled around, that cost had risen to an average of over $27,000 per year. 
And those numbers conflate private schools (typically much more expensive) with cheaper public schools. Again, accounting for inflation, the average cost for one year of attendance at a private college was over $43,000 in 2017–2018, more than double its 1985-1986 level of $21,000. 
While public colleges are cheaper than private colleges, the price of attendance has actually grown faster at public schools. Back in 1985–1986, the average annual cost at a public college was around $8,000. Now it's over $20,000 — a 127% increase!
With private college prices doubling — and public college prices more than doubling — since 1985, tuition figures can now give just about anyone a severe case of sticker shock. You can see the skyrocketing costs, starting in 1985, in the graph below.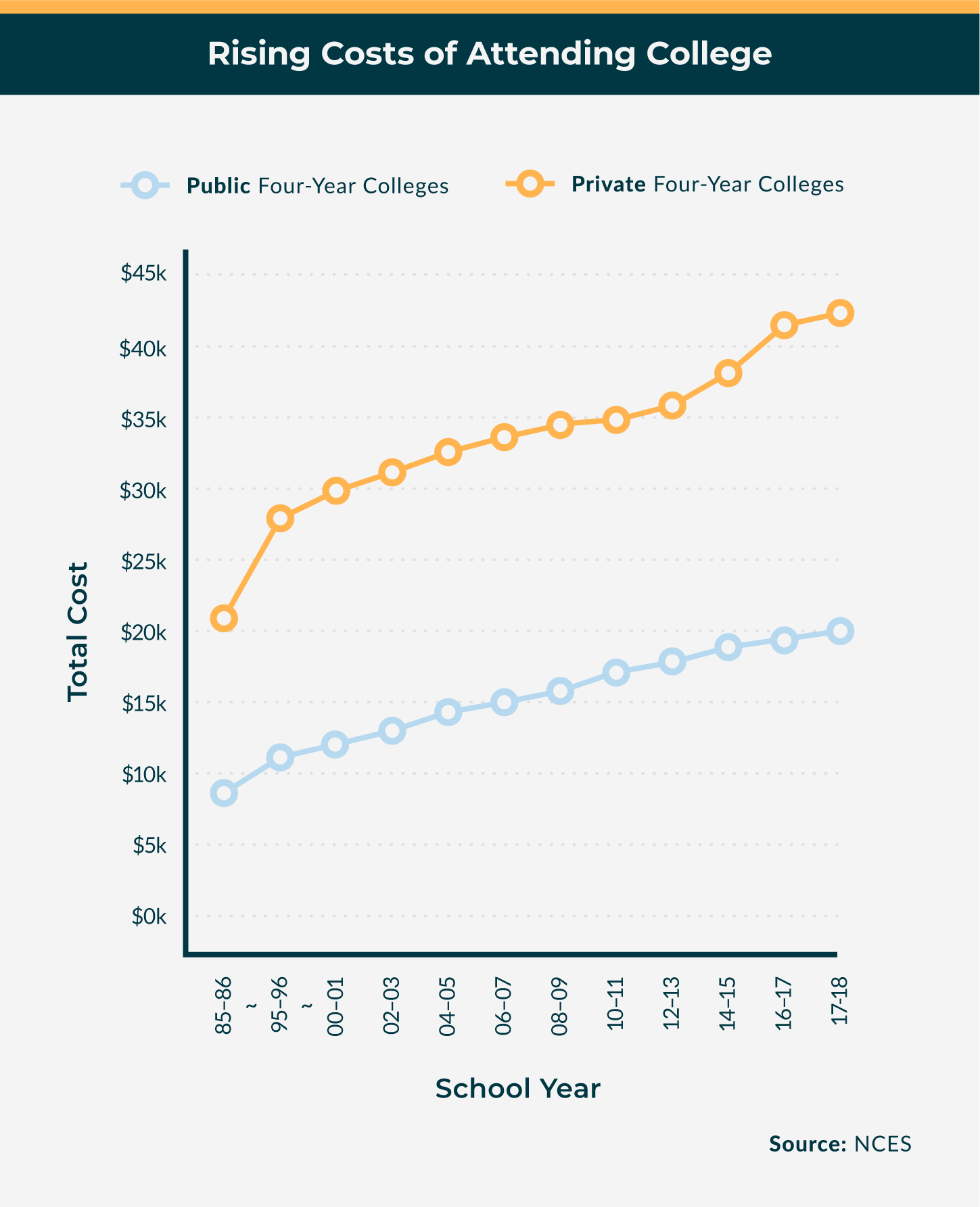 What Makes College so Expensive?
Harvey Mudd, University of Chicago and Columbia University are the most expensive schools in the country. Considering these schools set students back over $75,000 per year, it's easy to see how the cost of college could be prohibitive for many students and families. 
So, why is this happening?
Increased Administrative Staff 
To keep up with demand, universities are hiring more administrative staff. While often an unseen force, every service and department at your university needs staff to maintain it. Both in-person and online, it's often the people behind the scenes that make learning possible. From the custodial staff to student workers, administrative staff work to keep things running smoothly.
The number of administrative and professional employees has more than doubled in the last 25 years. In total, schools have added over 500,000 administrative positions since 1987. Between 2000 and 2012 alone, the public and private, non-profit workforce at secondary education facilities grew by 18 percent — more than 50 percent faster than in the previous decade. 
The increase in administrator positions has been a growing trend for decades. In the 1980–81 school year, instructional spending accounted for 41 percent of total education spending by colleges in America, while administrative spending accounted for 26 percent of total education. 
In the 2017–2018 school year, where educational costs climbed to over $603 billion, those administrative expenses rose to over $159 billion. This comparison between administrative spending and instructional spending, which includes faculty wages and salaries, is broken down below. 
While spending on administration used to be half that of spending on instruction, take a look at the chart below: administrative spending is pushing close to parity with instructional spending.
See Also: Best Study Apps for College Students

Rising Demand
In the past, higher education was reserved for the wealthier members of society and wasn't essential to securing employment. In today's competitive economy, college degrees have become crucial for job applications and securing a career. In the most recent data study from 2016, the Bureau of Labor Statistics found that entry-level jobs requiring a Bachelor's degree make up over 21 percent of total employment in the United States. 
Despite the rising costs, the amount of people attending college has risen. Between 2018–2019, there were over 21.9 million students enrolled in a college or university—a number that has grown by over eight million students since 2000, which saw 13.1 million students attending a college or university.
With an increase in student enrollment, colleges need to accommodate that rising demand by offering more: more on-campus housing options, more classes at different times, more dining options, more professors, and so on. All of these increases cost money, from salaries to building maintenance, so colleges subsidize these costs by raising student fees, tuition and more.  
But how can increasingly expensive colleges enroll more and more students from different backgrounds?
Availability of Financial Aid 
The answer is financial aid. Many students rely on financial aid, scholarships, loans and/or grants to offset the increasing cost of college. All these types of financial aid have made it possible for millions of students to afford college. 
That said, the increase in need for financial aid has also made it possible for college tuition to rise. Here's how.
The federal government, which oversees FAFSA and other forms of financial aid, matches student loan amounts to the yearly cost of attendance at universities. With increasingly large numbers of students relying on financial aid, those colleges then raise their cost of attendance — knowing students' financial aid will cover it. So while most students don't pay the full cost of attendance up front, they end up paying for it later, plus interest, because of loans. And year over year, students pay more and rack up more debt. The cyclical nature of financial aid and tuition growth can be seen below.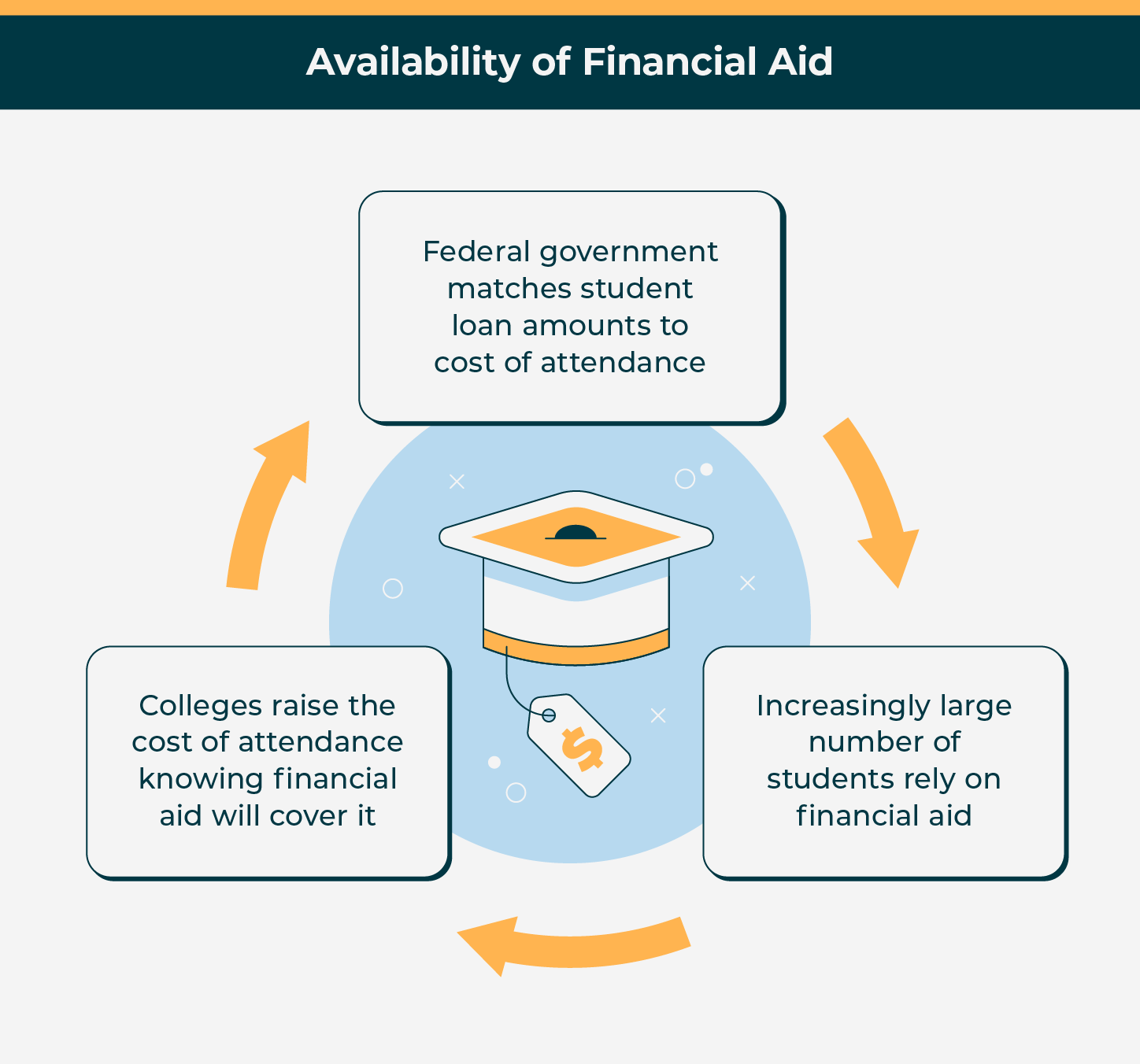 Student loans, of course, aren't the only form of financial aid. But it's important to note that federal college-funding programs, including the Pell Grant, do not account for inflation of tuition cost over time. These funds cover a base amount each semester — the maximum amount for the 2020–21 school year will be $6,345. While this is a significant amount of money that offsets the overall cost of tuition, it doesn't account for the increase in student fees, tuition hikes or any other cost increases. 
While financial aid helps many students afford college and makes attending possible, it's important to understand how much you're taking out in loans and what this means for your ability to pay it back. Loans are also given out regardless of major, which can be especially detrimental for students pursuing careers that are not recession-proof. This can cause those students to have a hard time paying back the total amount borrowed if they have trouble finding secure employment.
There's something inherently artificial in the market which inflates both loan availability and hence tuition levels. Unlike applying for a loan for a car, house or business, lenders are often willing to lend out tens (sometimes hundreds) of thousands of dollars to young students with little to no credit, meaning they haven't proven their ability to pay back debts. While this is good news for students who have no other means to pay for school, it often means young and inexperienced students are signing up to pay back huge sums of money for years, if not decades. This is because according to bankruptcy law, filing Chapter 11 bankruptcy often doesn't include student loan forgiveness. 
To lenders, this means that they're guaranteed to get their money back at some point, even if it's not any time soon. This differs from traditional loans, which are often time-bound and protected under bankruptcy law. 
All this to say: students should be careful when taking out loans, and should do so from an accredited financial institution with fair repayment rates. 
The Growth of Private and For-Profit Universities
It's no secret that private and for-profit institutions tend to be more expensive than public ones. The main difference between private and public universities is that public schools receive government funding, while private colleges do not. Attending a private school is, on average, much more expensive than attending a public institution.For context, a private nonprofit school uses tuition money to operate the school, pay staff and other costs that come with running a college. For-profit schools are operated by a larger corporation or business, with a large share of the tuition dollars often being put into marketing and recruiting rather than the school itself. (The education spending table shows you just how lopsided the administrative spending at for-profit schools really is.) 
Nevertheless, in the 2019–20 school year, the largest increase in tuition and fees was for private nonprofit schools, which saw a 3.4 percent increase to an average of $36,880 annually. Large increases like these calculate into the overall numbers reported for college tuition, making all colleges seem like they are increasing their prices.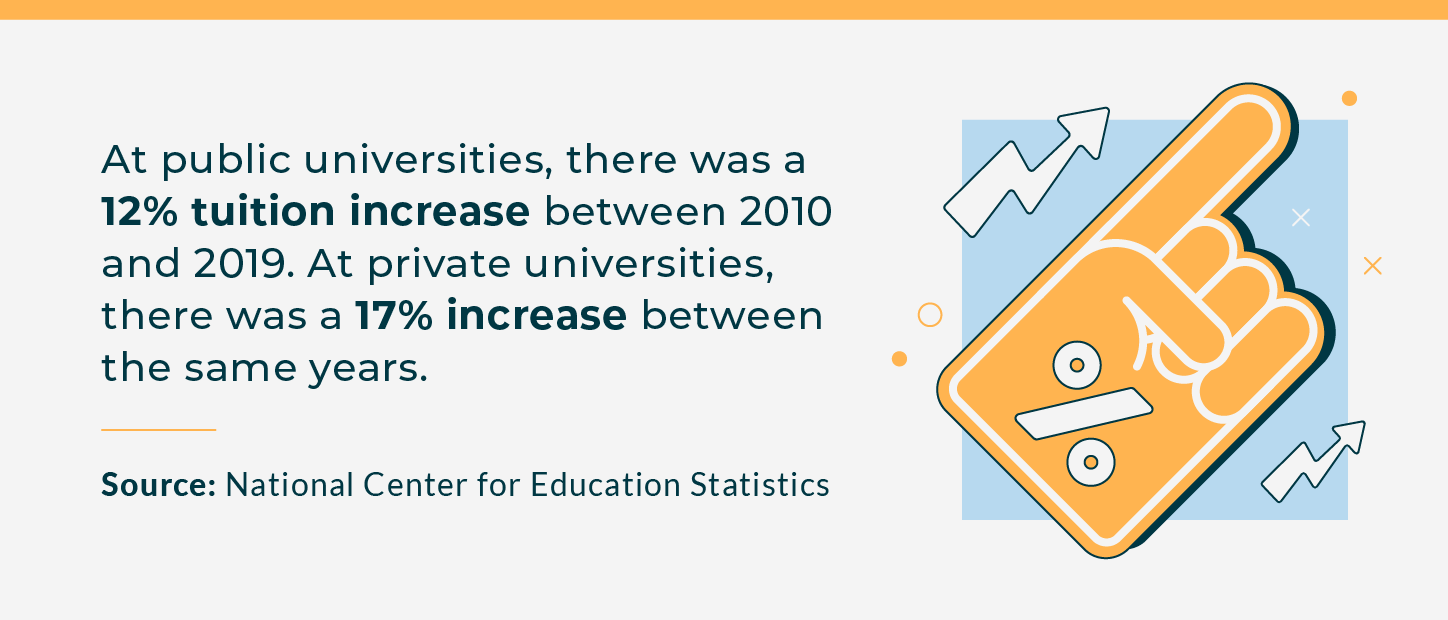 Lowered Government Funding
While tuition prices have gone up, government funding for public colleges and universities has gone down in some states to cut costs — meaning tuition needs to increase even more to cover those costs. A 2017 study found that overall, states are investing about 17 percent less in their public institutions — $1,525 less per student — since 2007. After adjusting for inflation, the same study found that funding for public two- and four-year institutions is $8.7 billion lower than what it was prior to the 2008 recession. 
A 2019 College Board Study on trends in college pricing found that school funding varies widely state-by-state, with students in some states granted more funding than those in others. For instance, in the 2017–18 school year, state and local funding per full-time student ranged accordingly:
New Hampshire: $3,070 per student
Vermont: $3,190/student
Hawaii: $16,490/student
Alaska: $17,700/student
These variations show that while funding may be down as a whole, it is up to state and local governments to decide on the level of funding that their public colleges and universities receive. As a whole, the 2017–18 school year saw a 9 percent decrease in state and local funding when compared to the 2007–08 school year, and a 10 percent decrease compared to 1987–88. 
Student Amenities Packages
With more students interested in and attending college, schools need to be competitive in order to interest and retain students along with their tuition money. This is why many schools have been offering appealing student amenities to pique student interest from the get-go.
This includes building high-end gyms, offering popular chain restaurants on-campus, using modern technology on-campus and online, featuring prolific graduation speakers, boasting luxurious student housing and more. 
Along with the cost of student recruitment, colleges are spending a lot of money to have as competitive an offering as possible. When it comes down to deciding where to spend the next few years in both time and money, many students are more attracted to the school with prime amenities versus the school that offers the bare minimum. Plus, happier students are more likely to stay at the same school until graduation, improving college's retention rates, which colleges then highlight to prospective students.
How to Make College More Affordable
While it's true that the cost of college has never been higher, there are ways to make college affordable for any student. Read on for our tips on finding ways to pay for your college education.
Scholarships
Scholarships are an excellent way to subsidize the costs of college, without the trade-off mentioned above. And don't just rely on the award package from your prospective colleges. Lots of private organizations offer scholarships that you can devote toward your education. There are a number of scholarships for every student and every interest, including military members, students with disabilities and more. 
To look for scholarships you may qualify for, ask a school counselor for resources, do some searching online or see if your college has any school-specific ones you can apply for as a student. The options are out there — you just need to look!
Government Funding
To combat the rising costs of attending college, 24 out of the 50 U.S. states have introduced tuition-free college programs that use a combination of scholarships, state financial aid and grant dollars make college both possible and affordable to eligible students. This varies state by state: some states have free community college programs, while others have discounted rates for attending public two-year colleges. 
In addition, the federal government stepped in to make college possible for even more students. As a revamp to the Higher Education Act of 1965, Congress introduced the College Affordability Act (H.R. 4647) in October 2019 in order to more effectively regulate the costs of college and increase graduation rates nationwide, as well as hold universities responsible for the success of their students.
Online College
While students pay tuition and some fees while attending online college, it can be a more cost-effective alternative to in-person classes. On average, tuition is lower for distance learning, and other fees and expenses are virtually erased, such as course or lab materials, living expenses and transportation costs. Generally, online classes require a lower overhead to operate, making it easier and cheaper for both students and colleges.
However, that doesn't mean attending online college is cheap or free. Attending college anywhere is a significant investment of time, resources and money. Students should prepare for that trade-off. 
For students who want to be college educated but want to ensure it will pay off, trade or vocational schools are a great option — many of which can be completed online, as well. This way, you're learning a valued skill that you can put to work in the field of your choosing as soon as you're granted a certificate or have passed your courses. 
Despite the costs associated, higher education is well worth the investment for many people. Ensure that you're analyzing the best benefits for you and what makes the most sense for your financial situation. Either way, online or off, we're here to help you make the best college decision. 
Sources: Statista | Department of Education National Center for Education Statistics (1, 2)| Western Governors University | CBS | Andrew Jensen | Huffington Post | U.S. News | College Board (1, 2) | Lumina Foundation | Deloitte Insights | Inside Higher Education