Do you want to be a crime-fighter but don't feel cut out for the police force? Exchange a gun and a badge for a calculator and spreadsheets! Your solution might be earning an online bachelor's in forensic accounting!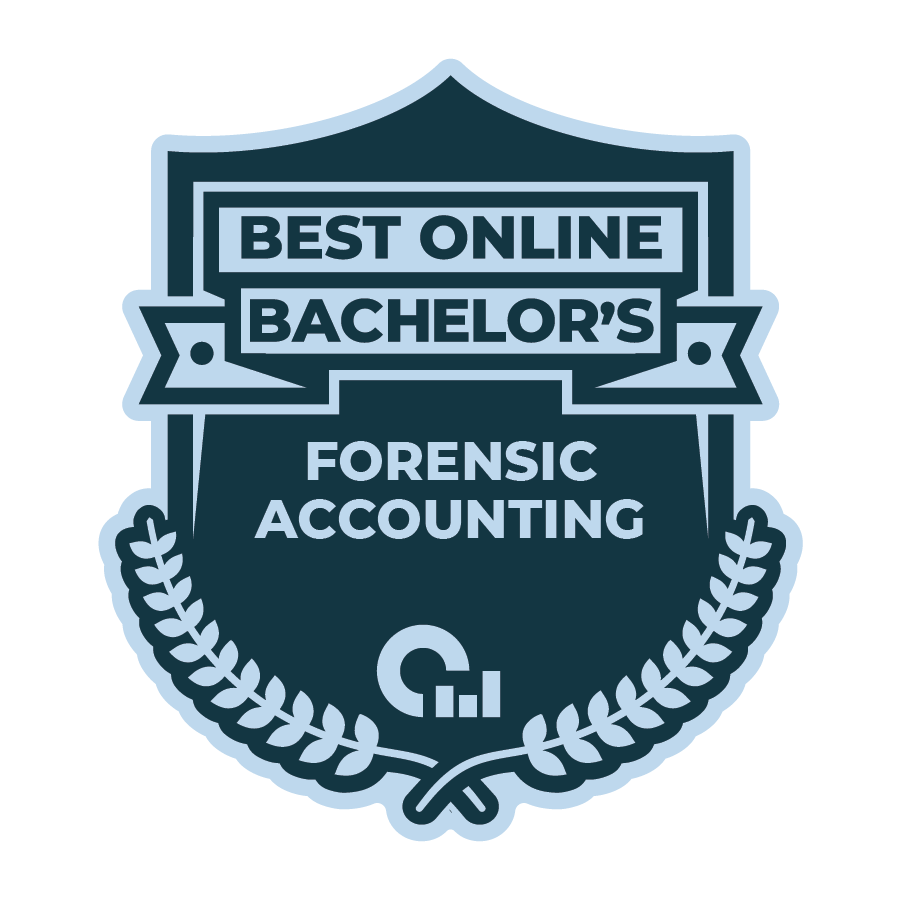 Sometimes, a criminal isn't a person – it's a corporation. Sometimes a crime isn't what you'd suspect. Instead, it might be hidden in paperwork and secret accounts. Forensic accountants are low-key crime-fighters. They investigate businesses and financial institutions by following money trails, analyzing spreadsheets and financial transactions, and digging into not-so-legal business dealings. They look for signs of white-collar crime like embezzlements, tax fraud, and money laundering.
Sounds fun, doesn't it?
Get started with an online bachelor's in forensic accounting. Who knew a math nerd could be a superhero too?   
What is an Online Bachelor's in Forensic Accounting?
What other field do you know of that combines criminal justice, economics, and business? Forensic accounting is a dynamic career that holds businesses accountable to financial and legal standards.
If numbers have always been your thing, but you're not interested in tax auditing for your career, then forensic accounting might be the perfect avenue for your skills. This field demands a meticulous eye for detail, but also a mind that can link together big-picture clues.
An online bachelor's in financial accounting degree will give you all the foundational accounting and business knowledge you need to take the CPA exam. But it will also take you one step further by specializing in forensic accounting.
An undergraduate degree in this field usually involves around 120 semester credit hours of study. If you go to school full time, you can complete this degree in four years.
In addition to the foundational accounting knowledge and skills mentioned a moment ago, forensic accounting degrees online include accounting courses related to:
Financial rules and regulations
How to conduct audits
Accounting ethics
Taxation
Financial statement analysis
Fraud investigation
Business administration
Accounting information systems
Likewise, you will probably take a host of business courses over your four years of study. Business courses such as marketing, finance, and business law are common for accounting majors.
See Also: Most Affordable Online Accounting Degrees
How Will a Bachelor's Degree in Forensic Accounting Help my Future Career?
Many online forensic accounting degrees help you prepare for the next step after graduation – becoming a Certified Public Accountant (CPA) or a Certified Fraud Examiner (CFE), or both. That's because many programs align their core competencies with the CPA exam. This ensures that your studies in college help you build the needed knowledge and skills to advance your career after you graduate.
The CFE certification is a professional credential for master's-level workers. The credential signals that you have expertise in the areas of fraud prevention, fraud detection, and fraud deterrence. Once you successfully complete the certification requirements, you'll be credentialed by the Association of Certified Fraud Examiners (ACFE). Your undergraduate studies will help you build a solid foundation toward pursuing this and other professional certifications after graduate school.
What are the Admission Requirements for an Online Bachelor's in Forensic Accounting?
The specific criteria you have to meet for enrollment in an online program in forensic accounting varies from one school to the next.
For example, one school might require applicants to have a 3.0 GPA in their high school studies. Another program might require applicants to have a 2.5 GPA.
Likewise, some schools require that you have ACT or SAT scores that meet a certain threshold. Other schools have no such requirement.
Aside from high school grades and test scores, you might need to:
Provide transcripts from any previous colleges you've attended
Submit an essay or a personal statement
Provide a CV or resume
Take prerequisite courses
Of course, you'll also need to fill out an admissions application, pay an application fee (if applicable), and submit your application and the related materials by the due date.
See Also: Best Online Master's in Accounting
What is Required for a Forensic Accounting Degree Online?
An online bachelor's in forensic accounting is the first crucial step in your journey to becoming a professional forensic accountant. As noted earlier, this degree requires around 120 credits to graduate, though some require as many as 180 total credits to graduate. Some include specialized areas of concentration such as Fraud Prevention or Financial Investigation.
Depending on the program, you'll have to take a comprehensive exam, complete a final capstone project, undertake a research paper, or participate in an internship. This is in addition to the normal classwork that's required of you in your online courses. Usually, coursework is divided into several segments, including general education courses and major courses.
General education courses introduce you to many different subjects – math, science, and the humanities, to name a few. Usually, you'll need one, two, or three courses in each general education field to satisfy the requirements of an undergraduate degree.
As mentioned earlier, major courses in a forensic accounting degree program revolve around studying accounting principles and processes. Your major courses typically compose about one-third to one-half of your total course requirements. You will often have the opportunity to take multiple elective courses in your major as well, which allows you to focus on an area of accounting that interests you the most. For example, you might take a course in cybercrime or data analysis. You might also explore case studies on law enforcement's role in forensic accounting, the fundamentals of an internal audit, or the processes of corporate governance.
Other requirements of the best online forensic accounting degree programs might revolve around a specialty, concentration, or a minor. For example, if you pursue an accounting degree at Southern New Hampshire University (SNHU) and want to specialize in forensic accounting, you can take three or four courses that are specific to forensic accounting. Common courses for a forensic accounting concentration include:
Investigating with Computers
Detection and Prevention of Fraudulent Financial Statements
Auditing and Forensic Accounting Processes
Interview Techniques
Legal Aspects of Fraud
That being said, every online forensic accounting degree is a little bit different and has varying requirements for graduation. As you search for the best online forensic accounting degree, be sure you thoroughly read the program's graduation requirements so you fully understand what's expected of you.
What Degree Do You Need to be a Forensic Accountant?
One of the benefits of pursuing a career in this field is that you can do so with just a bachelor's degree. You don't even need a forensic accounting bachelor's degree, either. According to ACFE, you can major in accounting, finance, or a related area.
As noted earlier, though, having an advanced degree or a certification is helpful. In some cases, a more robust forensic accountant education might be required. In fact, many companies require their forensic accountants to have a master's degree plus a credential, like the CFE or CPA credentials discussed earlier.
An important point to remember is that whatever program you choose, it should be accredited. Programs and schools gain accreditation from many different sources. For example, a school might be accredited by a regional accrediting body like the Higher Learning Commission. An individual program might be accredited as well. Among accounting degrees, the Accreditation Council for Business Schools and Programs (ACBSP) is the gold standard.
See Also: Best Online Master's in Forensic Accounting
How Much Can You Earn With an Online Bachelor's in Forensic Accounting?
It just makes sense that a career revolving around money would yield a comfortable salary.
Forensic accountants are specialists in an already lucrative field. This means that forensic accounting jobs pay a pretty penny, and deservedly so! For example, the average accountant makes around $52,809 per year. The average forensic accountant can make around $70,556 per year. As our economy becomes more and more encrypted, the demand for forensic accountants will only increase. As of now, the Bureau of Labor Statistics (BLS) predicts that the job outlook for forensic accountants is a seven percent increase in career growth over the course of the rest of the 2020s.
Accounting is a growing field in general. Accountant careers are usually at or above the national average for growth. Financial Analyst positions are expected to grow at about six percent as well. Financial examiners have a bright future ahead. The BLS predicts that this field will grow by 18 percent through the end of the decade.
It should be noted that the pay range for accounting positions varies widely. For example, the average annual salary for a forensic accountant is between $50,000 and $111,000. There are several reasons why the pay range is so wide.
First and foremost, your pay depends on your forensic accounting schooling. Forensic accountants with a higher education like a master's degree, a certification, or both, stand to make more money than one with just a bachelor's degree. Similarly, the more experience you have in this field, the more money you can make. For example, a recent graduate that has a master's degree in forensic accounting, yet just one or two years of work experience, is not likely to earn as much as a forensic accountant that has a master's degree and a decade of experience on the job.
There are other salary factors at play that might not be as obvious, though.
A great example of this is your employer. Who you work for can mean a significant difference in your yearly earnings. Accountants that work in the insurance or finance industries tend to have larger salaries than their colleagues. Additionally, the size of the organization for which you work can affect your income. Typically, forensic accountants that work for large accounting firms, organizations, or government agencies earn more money than accountants that work for smaller firms.
What are the Best Online Bachelor's in Forensic Accounting Degrees?
OSR uses six data points to rank the forensics accounting schools below. There are three school-wide and three program-specific criteria.
For school-wide criteria, OSR uses student satisfaction, admission rates, and the number of programs the school offers online. For program-specific criteria, OSR checks three things:
The median debt of graduates from that program
How many degrees are offered within that program's umbrella department
What percentage of learners at that school graduated from that department
The six statistics are displayed by each school. The sliding bar under each statistic represents how that school compares to other US institutions. "Not reported" means a school did not release that information to the US Department of Education. A more detailed description of the OSR process can be found on the methodology page.
Let's have a look at the best forensic accounting schools online!
Utica College

Quick Facts

Tuition: $20,126(in state) / $20,126(out of state)

Industry Certifications are available within the program

An internship is incorporated into the curriculum

This degree includes two areas of specialization

Program Level

Popularity at School

24.28%

At the top of our list of the best forensic accounting schools is Utica College.

This school offers a robust Online Bachelor of Science in Fraud and Financial Crime Investigation. The program goes even further to offer two concentrations: Financial Investigation and Fraud Prevention & Detection.

This unique curriculum brings together accounting, economics, and criminal justice. There are business courses included in the curriculum as well. In fact, some of the courses you might take include:

Corporate Finance
Managerial Accounting
Criminological Research Methods
Law of Economic Crime

You'll also complete courses in Crime Theory, Criminology, and Jurisprudence of the Criminal Law.

All told, you must complete 120 credit hours to graduate.

Indiana State University

Quick Facts

Tuition: $8,716(in state) / $19,252(out of state)

Specialized focus in areas like Fraud and Criminal Law

Enrollment is open to all majors – not just accounting

Online students outside of Indiana pay a reduced rate

School Wide

Programs offered online

19

At Indiana State University, you can cover the basics with an accounting or business major, but still specialize with an online minor in Forensic Accounting.

All six courses in this major are delivered online. The classes in this forensic accounting program are divided between three core areas: Accounting, Business, and Criminology/Criminal Justice.

The eighteen credits required to complete this minor include:

Financial Accounting I
Introduction to Fraud Accounting
Fraud Examination
Occupational Fraud
Principles of Accounting I
Criminal Law and Procedure II
Criminal Investigation

If you study full-time, you can complete this online program in two semesters.

Southern New Hampshire University

Quick Facts

Tuition: $30,756(in state) / $30,756(out of state)

Transfer up to 90 credits

Core courses offer specialized accounting skills

Financial aid is available to eligible students
Program accredited by ACBSP

School Wide

Programs offered online

43

This bachelor of science in accounting program from Southern New Hampshire University focuses on forensic accounting and fraud examination. As part of your studies, you'll learn relevant accounting regulations and how to audit financial information.

Additionally, this program teaches you how to create financial records, prepare tax returns, and make ethical financial decisions.

If you want to continue your education, you can combine your undergraduate studies with an accelerated master's pathway. You can take up to four graduate courses as an undergrad and apply those credits toward earning a master's degree.

No test scores are required to apply, and there is no application fee, either!

University of Northwestern Ohio

Quick Facts

Tuition: $9,965(in state) / $9,965(out of state)

Affordable tuition rates ($275/credit)

Begin taking accounting courses in the first semester

Forensic accounting and CPA tracks are available

With this degree in accounting at the University of Northwestern Ohio, students like you can choose to specialize in Forensic Accounting.

Overall, the degree includes 180 credits, 102 of which are devoted to technical and basic requirements. This includes coursework in fraud prevention, fraud detection, embezzlement, and much more.

As a graduate of this program, you will have the knowledge necessary to sit for the CFE exam.

This bachelor of science program is four years in length.

University of Alabama at Birmingham

Quick Facts

Tuition: $8,328(in state) / $19,032(out of state)

Three start dates per year

Award-winning faculty

Ranked by U.S. News & World Report as the 29th-best online bachelor in business program

School Wide

Programs offered online

12

Program Level

Programs in Department

Not Reported

Popularity at School

2.43%

You'll be ahead of the curve by completing your online BS in Forensic Accounting at the University of Alabama at Birmingham.

The curriculum covers both core business and accounting credits, but also allows you to specialize if you desire. Areas of concentration include:

Financial accounting
Auditing
Forensic accounting

Additionally, you can shorten the timeframe for graduation because transfer credits are accepted from regionally-accredited schools.

This is a 120-credit program that can be completed in four years. As you prepare to graduate, you can get job search assistance from the school's Handshake program. Handshake is a career services management system that's exclusively for students in UAB's Collat School of Business.