Education is the future: the way we teach our children and students today will shape the world for generations to come. That's why we have built a methodology to help students find the best online schools where they can get high-quality, affordable, and flexible college degrees. That's where the future of education is.
But education is also our past. From hand-me-down wisdom and outdated traditions to radical teaching methods, the history of schooling has a lot to answer for!
For our latest assignment, Online Schools Report compiled a new list of the longest-surviving schools and universities in every country in the world.
Then we put on our art overalls and created a series of maps to illustrate our findings.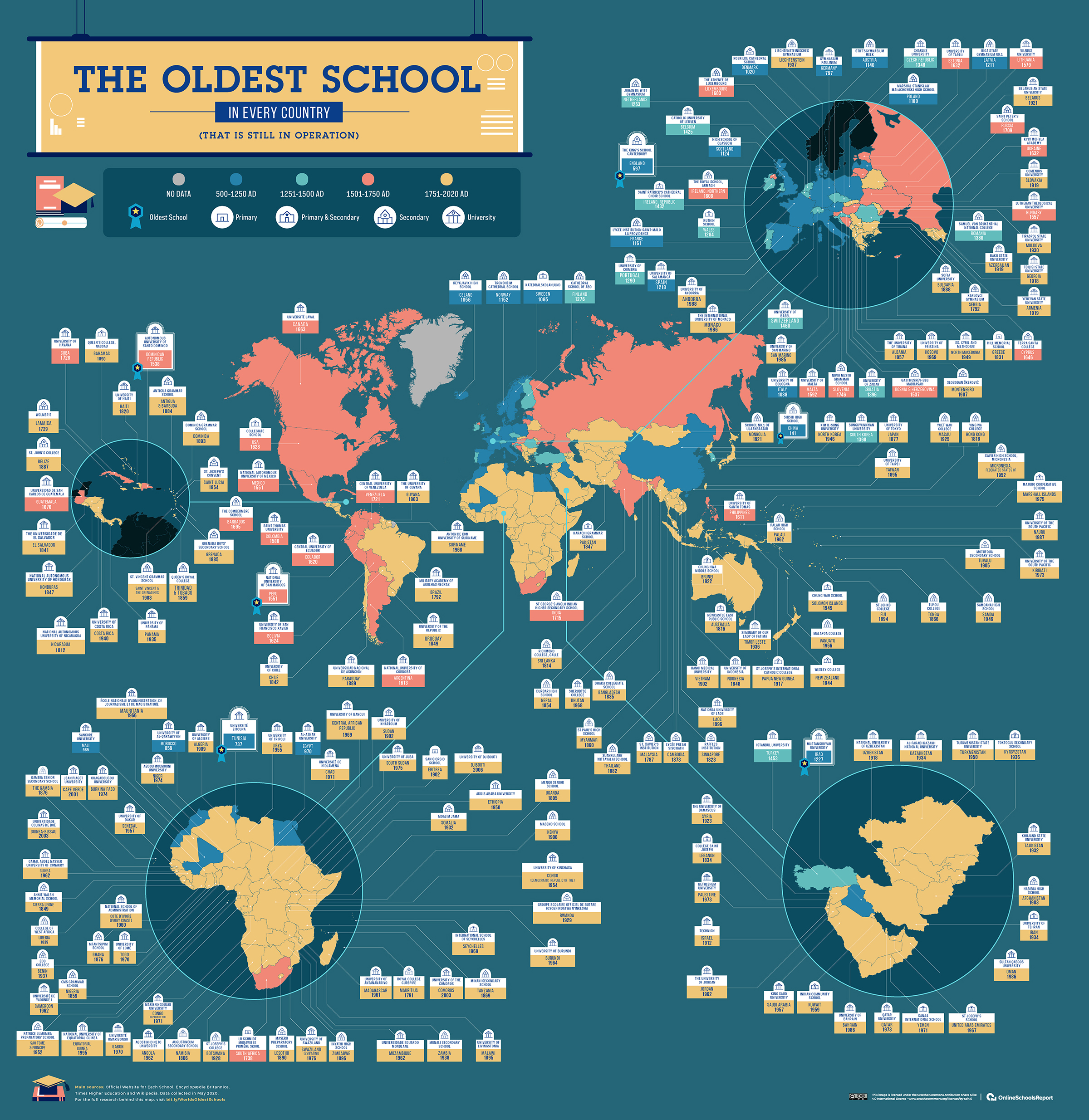 Click here to see the map in full size
The Top Ten Oldest Schools in The World
The very oldest schools in the world are mostly divided between Europe and Africa. In fact, Europe is home to 19 schools that are more than 500 years old. Africa has four universities that are over 1,000 years old. Still, there is a big gap between Sankore University in Mali (989) and the continent's next oldest school, which was founded more than seven centuries later.
| YEAR | COUNTRY | SCHOOL | TYPE |
| --- | --- | --- | --- |
| c.141 BC | China | Shishi High School | Primary |
| 597 AD | England | The King's School Canterbury | Secondary |
| 737 | Tunisia | Université Zitouna | University |
| 797 | Germany | Gymnasium Paulinum | Secondary |
| 859 | Morocco | University of al-Qarawiyyin | University |
| 970 | Egypt | Al-Azhar University | University |
| 989 | Mali | Sankore University | University |
| 1056 | Iceland | Reykjavik High School | Secondary |
| 1085 | Sweden | Katedralskolan, Lund | Primary & Secondary |
| 1088 | Italy | University of Bologna | University |
North America
The oldest schools in the Americas are relatively young. Before colonization, an advanced system of Native American education took place in 'real world' settings such as the farm or home, led by family members. North America's oldest surviving school was founded by Spanish Roman Catholics in 1538, by decree of Pope Paul III. Autonomous University of Santo Domingo still thrives in what is now the Dominican Republic.
In 1638, schoolmaster Adam Roelantsen travelled from Holland to the States. He worked with the Dutch West India Company and Dutch Reform Church to co-establish Collegiate School in New Amsterdam, which became New York in 1664. Today, Collegiate is the oldest independent school in the US.
Click here to see the map in full size
Europe
The world's earliest 'university' is in Italy. Although Africa has older institutions of higher education, the University of Bologna (1088) was the first to refer to its scholars and teachers by the Latin term, universitas. When the school opened, Catholics considered scientific knowledge to be a gift of God that could not be 'sold.' Instead, students paid teachers a donation (colectio).
England is home to the second-longest surviving institution in our study. Just a century after the fall of the Roman Empire, Augustine of Canterbury – one of the founders of the English church – established what would become known as The King's School (597).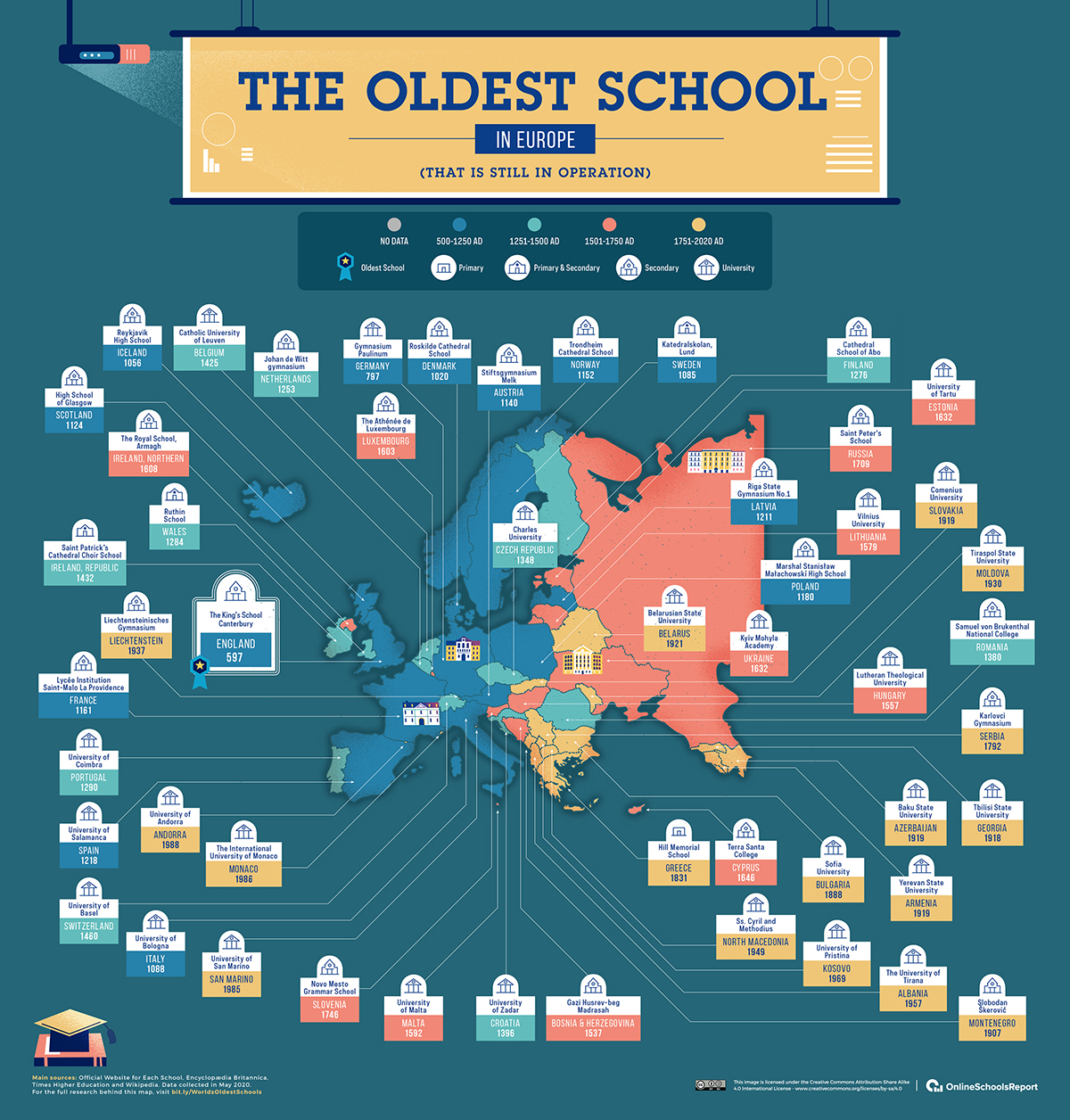 Click here to see the map in full size
South America
South America's oldest school is National University of San Marcos in Peru (1551). Originally known as Universidad de Lima, the institution was founded to meet the demand for education from both monks and laypeople. The school has been led by 216 rectors without a gap, from Fray Juan Bautista de la Roca 500 years ago to Dr. Orestes Cachay Boza today.
Bolivia's University of San Francisco Xavier was founded on March 27, 1624, 'rubber-stamped' by Pope Gregorio XV and King Felipe III; the opening ceremony concluded with the sound of chirimías and trumpets. The original curriculum covered Scholastic Theology, Moral Theology, Philosophy, Latin, and the indigenous Aymara language.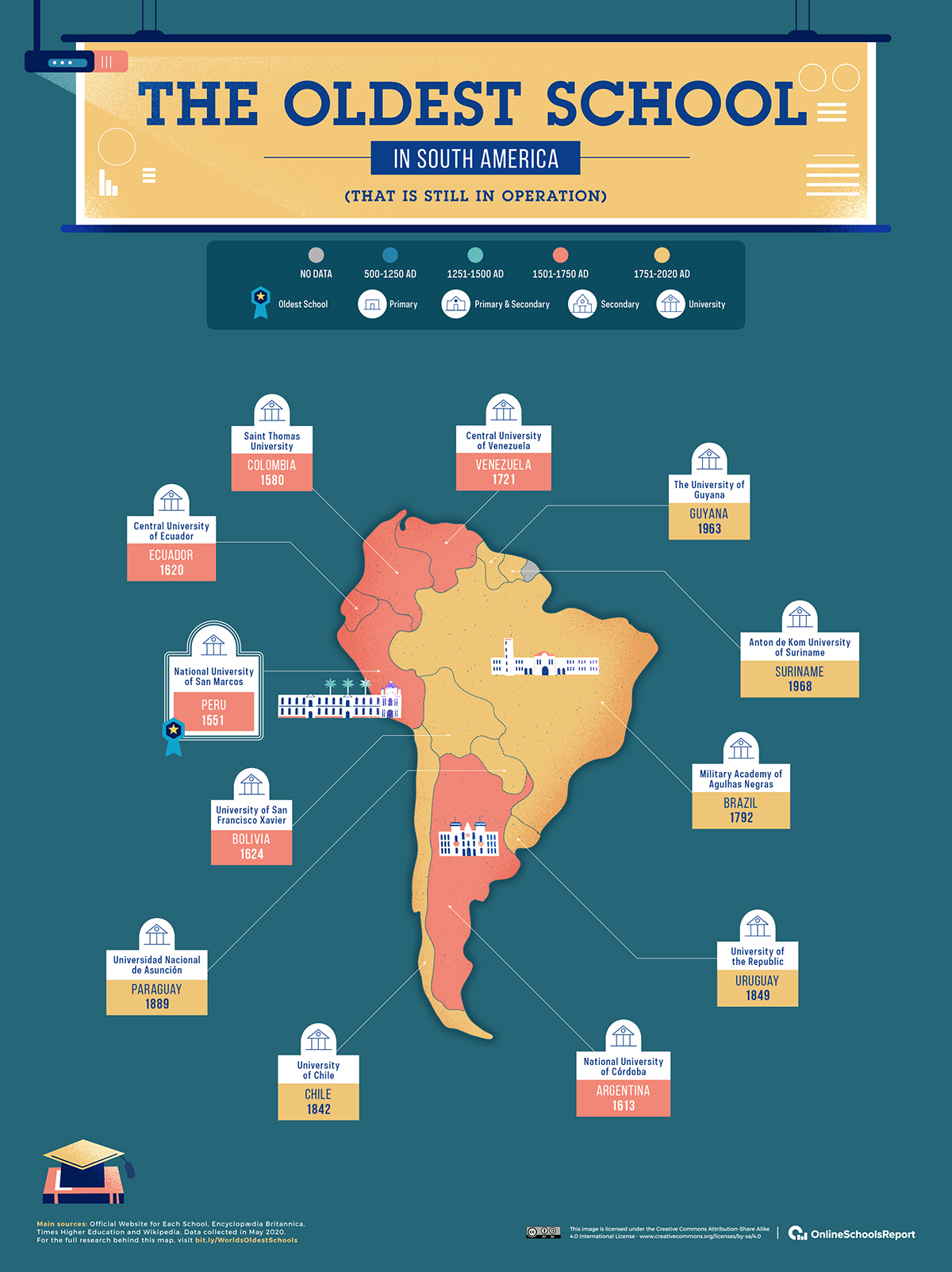 Click here to see the map in full size
Middle East & Central Asia
Mustansiriyah University is Baghdad's "great survivor," according to locals. The Abbasid Caliphate built the school's beautiful premises between 1227 and 1234 when Baghdad had a multicultural population of over a million people. The university and its architecture have survived the rise and fall of empires, regime changes, and drastic urban modernization to make it the oldest school in the region.
Ottoman Sultan Mehmed II founded Istanbul University in 1453, bringing together the madrasas (Islamic theological schools) of two local mosques. Classes originally included astronomy, philosophy, philology, and literature. It is the alma mater of the Nobel Prize-winning writer Orhan Pamuk.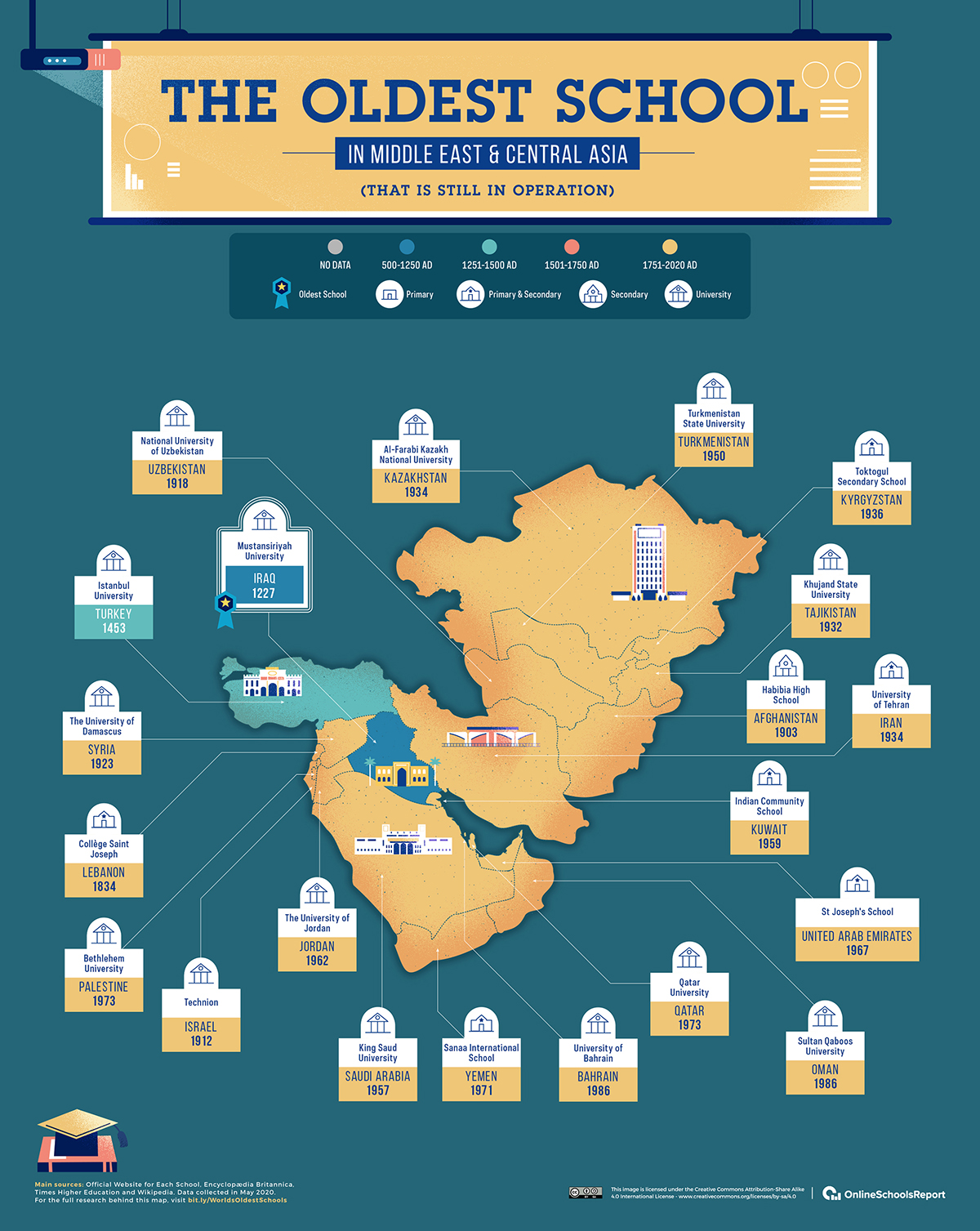 Click here to see the map in full size
The Rest of Asia & Oceania
Shishi High School, in China, is the oldest school in the world. A Han dynasty governor ordered the building to be constructed from stone (Shishi means 'stone chamber') around 140 years before the birth of Jesus Christ. The premises have been repeatedly destroyed and rebuilt, but there has been a school on the site for over two millennia.
Sungkyunkwan University in South Korea opened in 1398. East Asia's oldest university was founded to develop a scholarship in Confucianism, and its name means, "An institution for building a harmonious society of enlightened human beings."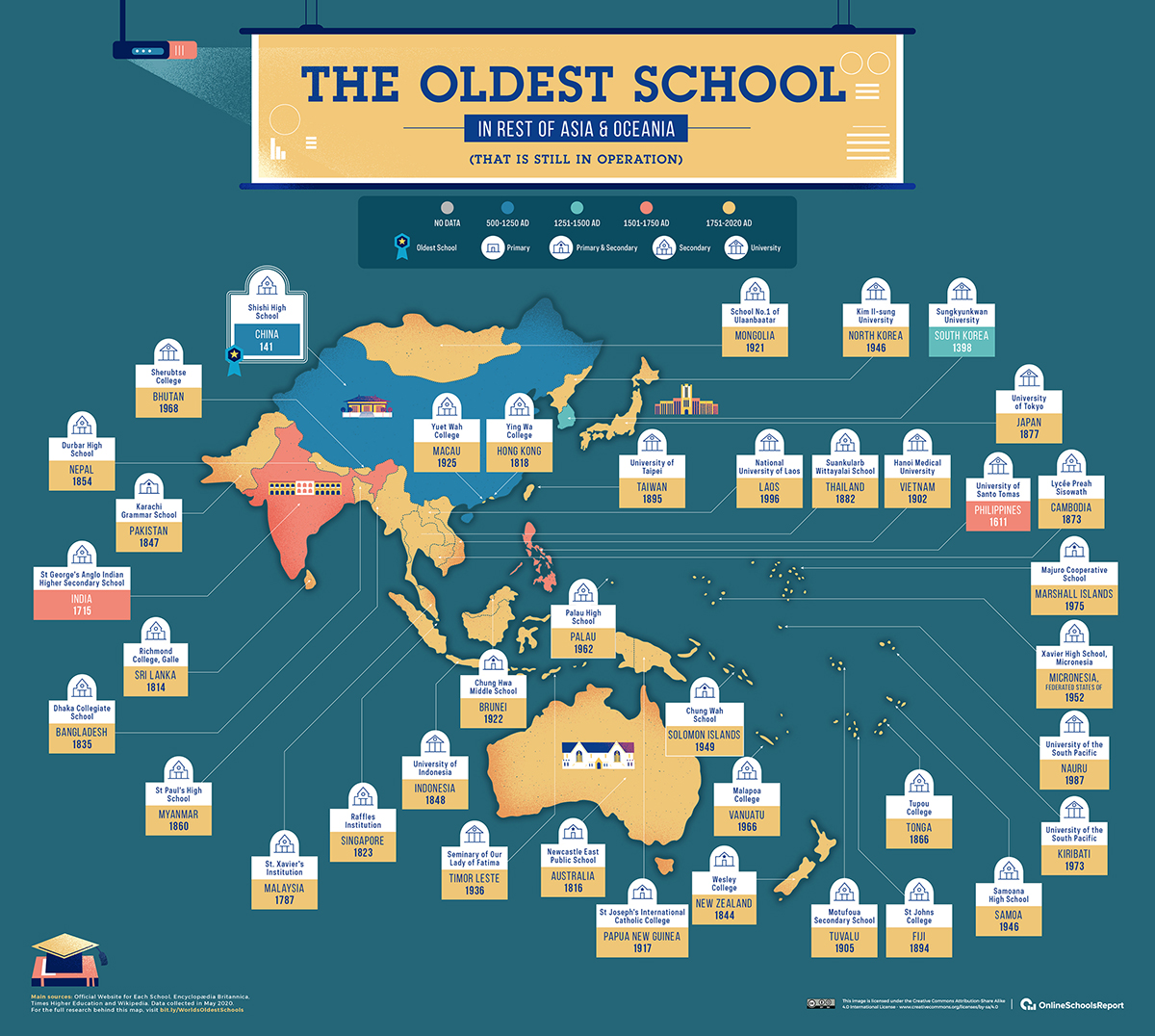 Click here to see the map in full size
Africa
Université Zitouna in Tunis can claim to be the world's oldest university. Ubayd Allah Ibn Al-Habhab founded the Zitouna mosque in 734, and teaching began in 737. Tunisia's French colonizers later saw the school's importance to Tunisian culture and identity. They tried to reform it, but efforts to protect Zitouna's unique pedagogical approach have since been enshrined in law.
Guinness World Records lists the world's oldest school as University of al-Qarawiyyin in Fes, Morocco. Al- Qarawiyyin gets the stamp because it has been in continuous operation since 859. However, this is based on the idea that reform and renaming of Université Zitouna in the 20th century counts as the closing of the old school and the opening of a new school.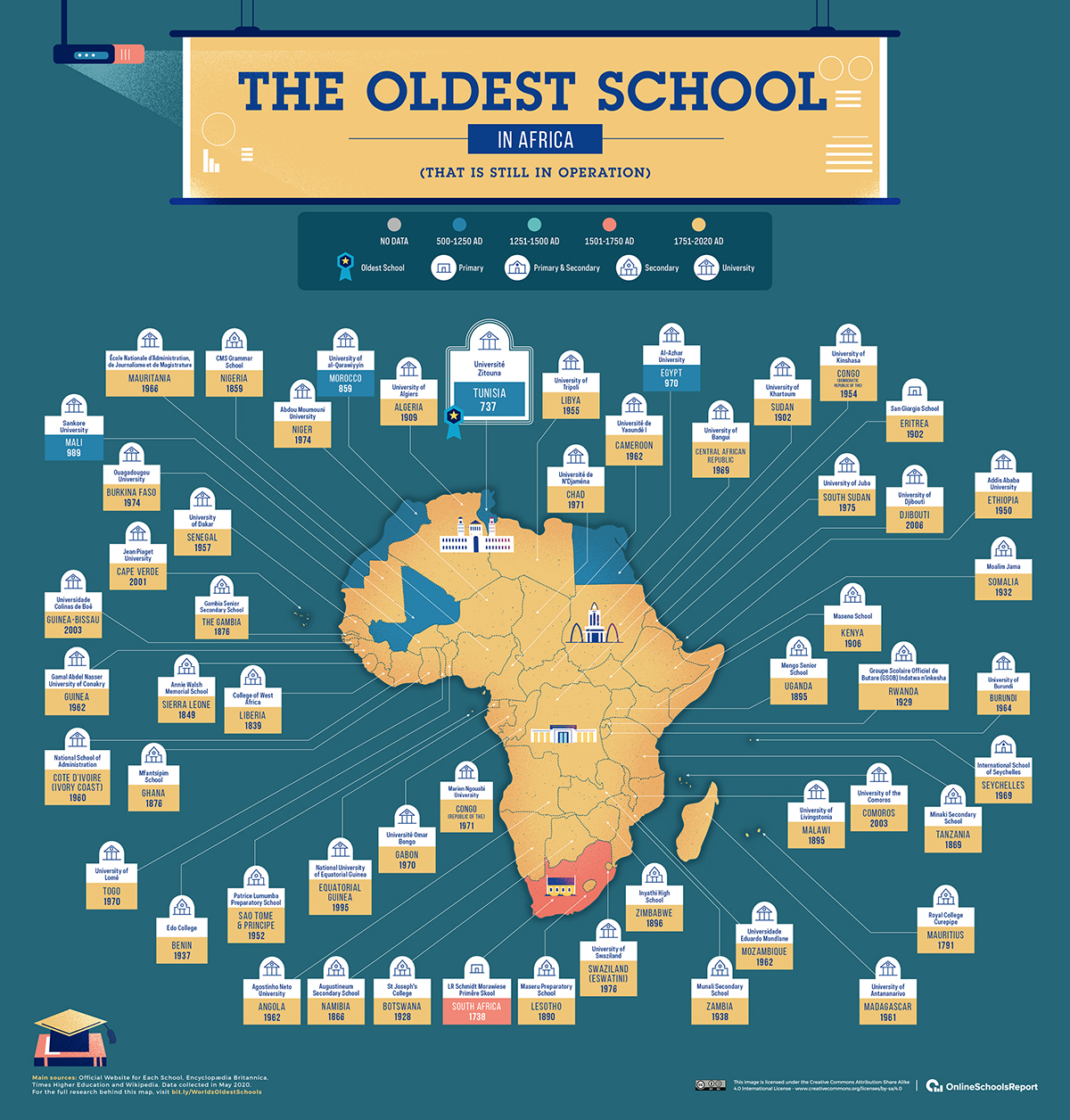 Click here to see the map in full size
School's Out… Forever?
Imagine if you could look through the yearbooks of the world's oldest schools. Would schoolkids in Han dynasty-China have the same cheeky grins on their faces? Would the hopes of Boston Latin School's first seniors chime with those of today's class?
Education is about progress, but, by necessity, it is also a process of continuation. What do you think has changed and remained the same in the longest-surviving school in your country?
---
METHODOLOGY & SOURCES
To create these maps, we first consulted lists such as "The 100+ Oldest Schools in the World," "List of oldest schools," and "List of oldest universities in continuous operation." We verified their accuracy by finding other sources to back up their claims. If we found the information to be correct, we added them to our map. 
If a list was not accurate or a country was not on the list, we searched for "oldest school in [country]." If still no result could be found, we searched for "oldest [primary, grammar, secondary, university] in [country]." After verifying their accuracy, we added them to the map. Every effort was made to ensure the data was correct at the time of publishing. We have verified the dates to the best of our ability, but it is possible that there are flaws in the data or older schools whose history is not so well-recorded.  For the full list of sources behind this map visit bit.ly/WorldsOldestSchools